The SP series is designed to transport strong abrasive slurry with high concentration of solids, at pH levels 5 to 12. Pumps available in chrome iron and rubber configurations. SP series pumps are designed to handle abrasive high
density slurries in mining, metallurgical, coal, manure, and other industrial applications.

---

MP SERIESMP SERIES MINING PUMPS ARE DESIGNED FOR COARSE ABRASIVES. Cornell Pump Company's MP Mining Pump Series combines 65 years of innovate pump manufacturing and design, with our highly regarded patented Cycloseal® technology. Offering high operating pressures, the MP pumps are specifically designed for coarse abrasive slurry applications such as sand, gravel, coal, manure, and mine dewatering.



---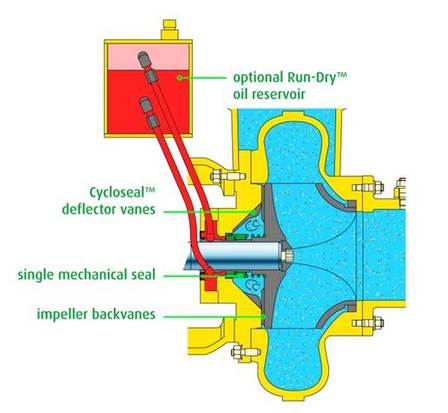 Cycloseal®
Extended Seal Life: Cornell's Cycloseal® design has
proven itself in the toughest applications from manure
slurry to starch recovery to clear water, food processing,
self-priming and hot cooking oil applications – in
some cases more than tripling the normally expected
mechanical seal life.
Run-Dry Option: All pumps equipped with Cornell's
Cycloseal® system have an optional run-dry feature
available, which serves to lubricate the seal faces
even when there is no liquid in the pump casing. In
situations where the pump must run dry for several
hours, or where the pump may suddenly lose prime
without being shut off, the Run-Dry™ feature is a must.
System Savings: The Cycloseal® system requires no
external water flush, filters, grease cups, piping or
instrumentation normally associated with packing or
double mechanical seals.
Maintenance Savings: Longer seal life which
translates into less pump down time and lower
maintenance costs.
---
BENEFITS
• Fully automatic priming and repriming
• Handles air/liquid mixtures with ease
• Rapidly primes and re-primes completely
unattended
• Environmentally safe priming system designed to
prevent product leakage
• Patented Cycloseal® and Run-Dry™ options
• Handles large sized solids
• High suction lift capability up to 28 feet
• Premium hydraulic effi ciency for reduced energy
consumption
• Flow rates to 38,000 GPM
• Heads up to 800 FT.
• Valve eliminates any liquid carry over

---